If you've been following him on Instagram at ricks_ride23, you know BF has landed safely in St. Augustine where we will settle in for a few weeks of beach vacation. Just as I had envisioned a hundred times, he came riding into Anastasia State Park with his fellow riders where they placed their front tires in The Atlantic. It was a sight that brought cheers and tears.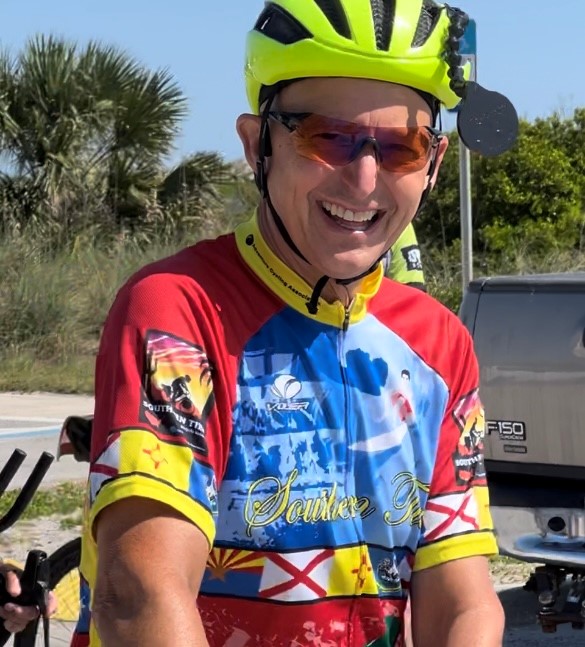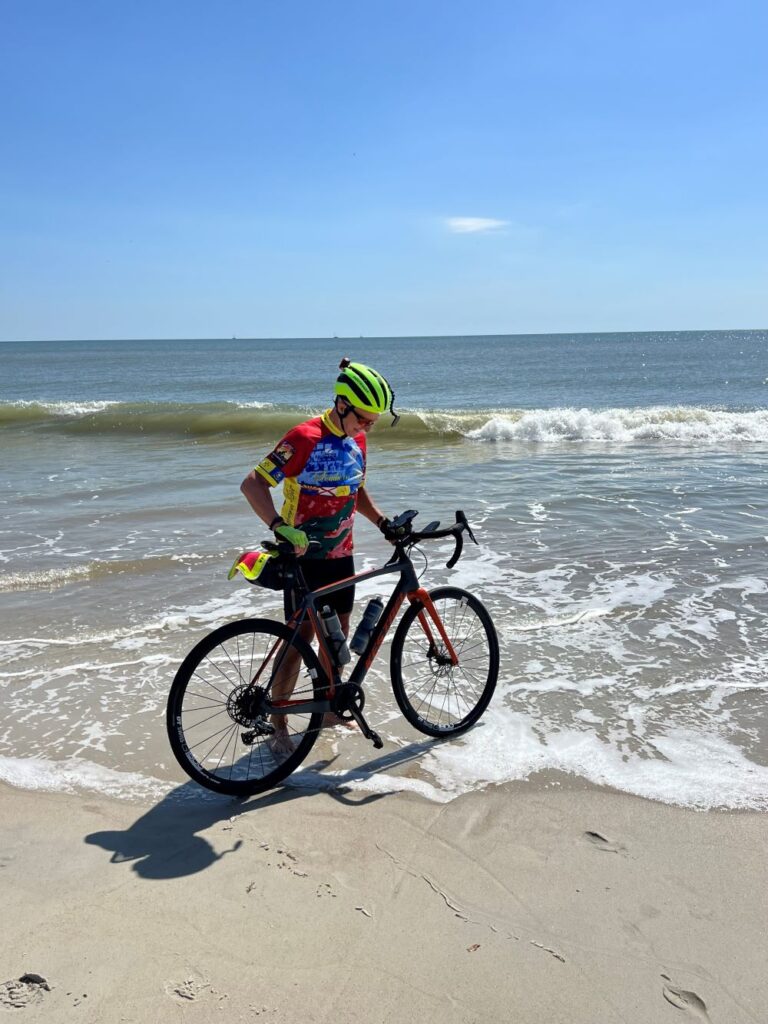 I had not allowed myself a second to think otherwise, but seeing him ride in, unscathed, smiling like the cat that ate the Southern Tier of America on a bicycle, was a huge relief. At first sight of the pack rounding the corner where I stood watching and waiting with a small group of other riders' family members, we jumped up and down and hooped and hollered as they rode by. I took a video but it was a mess. I was too excited.
Speaking of Family Members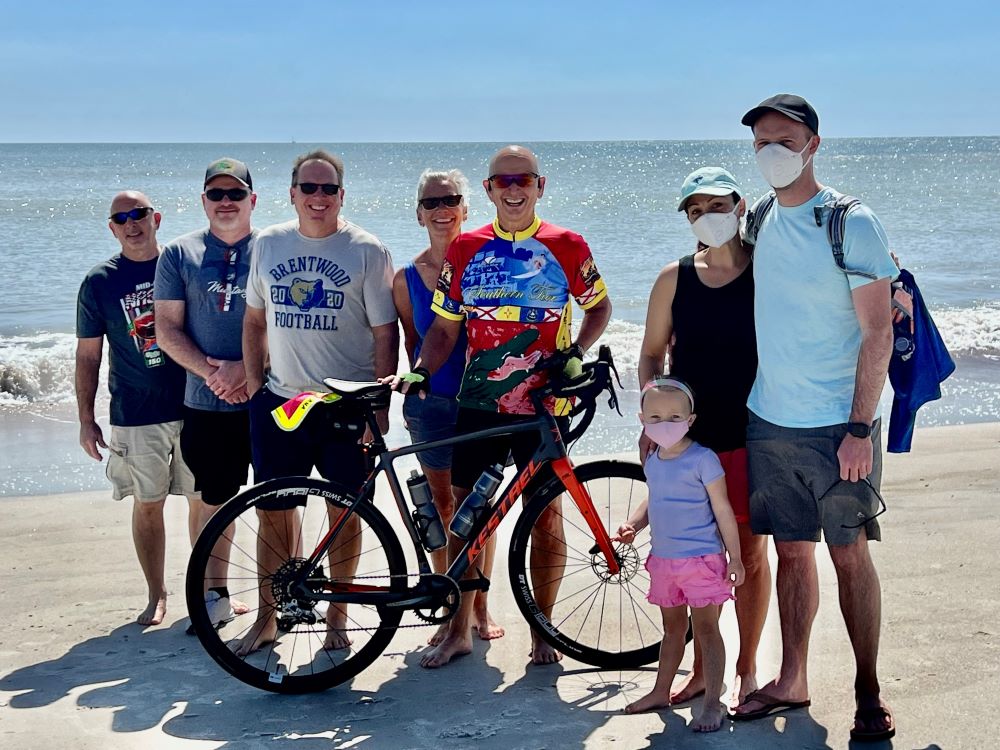 I've held a secret for a couple of weeks. BF is the oldest of the four Ruegg Brothers and the younger three were waiting to greet him as he walked out onto the beach with his bicycle. It was a tearful reunion. Surprise, successful.
Daughter Katie, Son-in-Law John, and Granddaughter Lily flew down from Chicago to be here for the ride-in and spend a week with us at the beach. Thank goodness I didn't have to keep that as a secret, but the Universe had a little surprise for all of us. Let's just say they did not get to stay in our condominium and had to wear masks and distance themselves. As we're all learning to do, we've made the best of it.
Adjusting
By the time you read this, our visitors will all be back in their homes and we'll have some adjusting to do. How is he going to replace the intense exercise, the routine, and the camaraderie of his fellow riders? He will miss the adventure and the rider's high out there on the open road. Maybe not the tent and the rustic restrooms, but he's a guy who likes a challenge and completing a bucket-list item.
For me, driving here and being alone for the past two weeks falls way short of a bucket-list item, but has been its own adventure. I experience an accomplishment high out of just succeeding on my own. Always have. In fact, I didn't necessarily like it when first we went somewhere together, and BF automatically assumed the driver's seat.
Like I say, we're adjusting.
This morning, I introduced BF to my morning beach walk, all two miles of it. He looked at me and said, "Well, can't we keep going?" We walked three and a half more. That's five and a half miles. Before a proper breakfast. I may not tell him I usually take an afternoon walk too.
Like I say, we're adjusting.
I never once thought he didn't have the physical fitness or the grit necessary for this type of adventure. His stick-to-it-iveness and ability to organize and create a routine are deep within his DNA. From my vantage point, him completing this adventure was a given. I just hadn't thought much past that celebration at Anastasia State Park. Well, other than to extend our stay here by another week and book two nights at a retreat center on the way home. But I definitely hadn't prepared for the adjusting.
Did I mention we're adjusting?