For the month of February, I've invited BF to blog with me. If you missed last week's blog, start here!
First Dates
Debi: First dates rank right up there with public speaking on the anxiety Richter scale. And being 46 years old and not having dated for over two decades didn't help.
BF: I was surprised when Debi called on Thursday to say she'd like to go to the game. I was okay with the not-a-date arrangement. My life was complicated, and I knew I needed time to heal before considering a new relationship. As I drove up her steep driveway, I thought how treacherous it must be in the wintertime. I also noted how convenient it was that her driveway was less than a mile from my front door. My jitters made me feel like I was back in high school.
Debi: When Michael and I arrived home from church, the silver Expedition was already there. I was mortified, not because I was late, because I was wearing a stupid, baggy jean dress and I didn't want to open my garage door and reveal the chaos in which I was living.
BF: She pulled around me and called out, using her teacher's voice, for me to meet her at the front door.
Debi: I sent Michael, who was super excited to find out about this guy and his season tickets, to answer the door while I ran to change into the new jeans and white blouse, I had just purchased at Von Maur. Deciding what to wear on this not-a-date had been a challenge. I stood for a long time wondering if I should remove my wedding ring and decided leaving it on would help reinforce the "not a date" thing.
The Indianapolis Colts, RCA Dome, 2002
BF: I chatted with her middle school son who knew more about the Colts stats and players than I did. Debi seemed more flustered and nervous than I felt. On the 20-minute drive, we chatted about our kids: our oldest daughters, both freshmen at DePauw University. Our youngest, both freshmen in high school. Mine at Center Grove, hers at Greenwood. I told her about the game I played, trying to find a free parking space on the south side of the stadium. She assured me she didn't mind a walk. As we maneuvered through the crowd to Section 103, I was aware of the feeling of being in a familiar place with a new person. My fellow season ticket holders had met my daughters, several of my co-workers, one other date, and various football buddies. They would likely comment on this new person, so I made contingency plans for how I might introduce this not-a-date lady.
Debi: I was extremely grateful for the aisle seat of a very long row in the RCA Dome. I could plaster myself to the armrest, avoiding any accidental brushes with BF's arm, and observe his easy chat with the people in the seats around us. I was taken aback by his 0-60 emotional outbursts when the defense messed up the quarterback coverage or he took umbrage with a referee call. He'd jump out of his seat and yell, "Too much time! You're giving him too much time!" Or he'd leap into the air and pull an imaginary flag from his back pocket and holler, "Flag!"
BF: Her leg never stopped bouncing and I was a bit worried she might fall out of her seat into the aisle. I could tell she wasn't too interested in the game, but I was there to enjoy a football game–which I did. I had long before this determined that in my new life, I would be me and never morph into who I thought someone else might want me to be.
Debi: People watching is one of my superpowers. Let's just say the crowd at the Colts vs. Dolphins game that September Sunday in 2002, provided plenty of fodder and I was pleasantly entertained. BF added a bit of color commentary with a few interesting stories about the folks around us. I also noted a distinct lack of mansplaining regarding the game. He allowed me the space for my experience, and I wasn't hating it.
BF: I was enjoying our time together and asked her if she'd like to grab a bite to eat downtown.
Debi: When a Colts defeat was imminent, BF suggested we cut out a little early to snag a table at The Ram. I was more than amenable.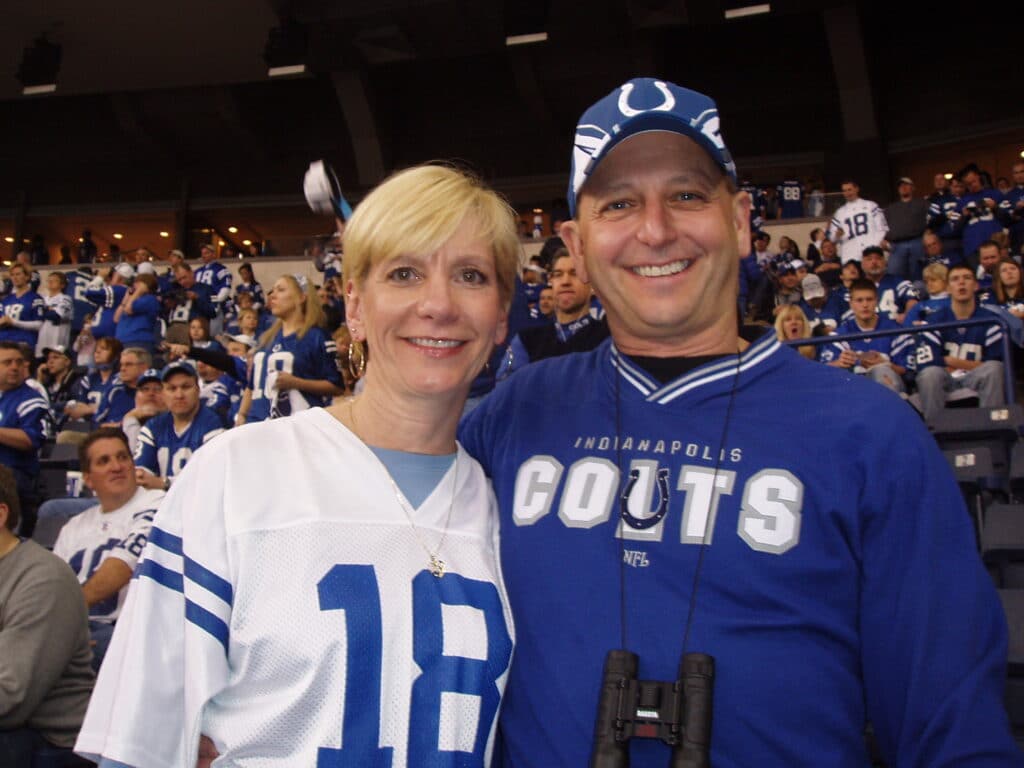 I think we'll stop here for now and do dinner next week. I've heard from several people how our story has reminded them of memory. I'd like to invite you to share your meeting or first date story in the comment section below.
---