I'm sitting here looking at a painting on my office wall. It was painted by my brother-in-law from my first life, Frank, and is pictured below. Frank is a talented artist. Way more talented than he'd ever admit. He and I were married to a Dixon sister and brother; both have passed on.
It All Started With a Conversation
In 2008, Frank was at our house for some holiday or another, talking about taking a group of artists to Italy for a two-week, self-guided artists' retreat at La Romita, an art school in Central Italy. He said he had two spots left which BF and I, thankfully, knee-jerk claimed, making us two of only three non-artist travelers in the group of eighteen. We had no idea how special this trip would be, how much talent we would observe, how the artists would welcome us into their fold, and how fortunate we were to go. It's just that if someone mentions a trip, I have a tendency to ask if I can go too.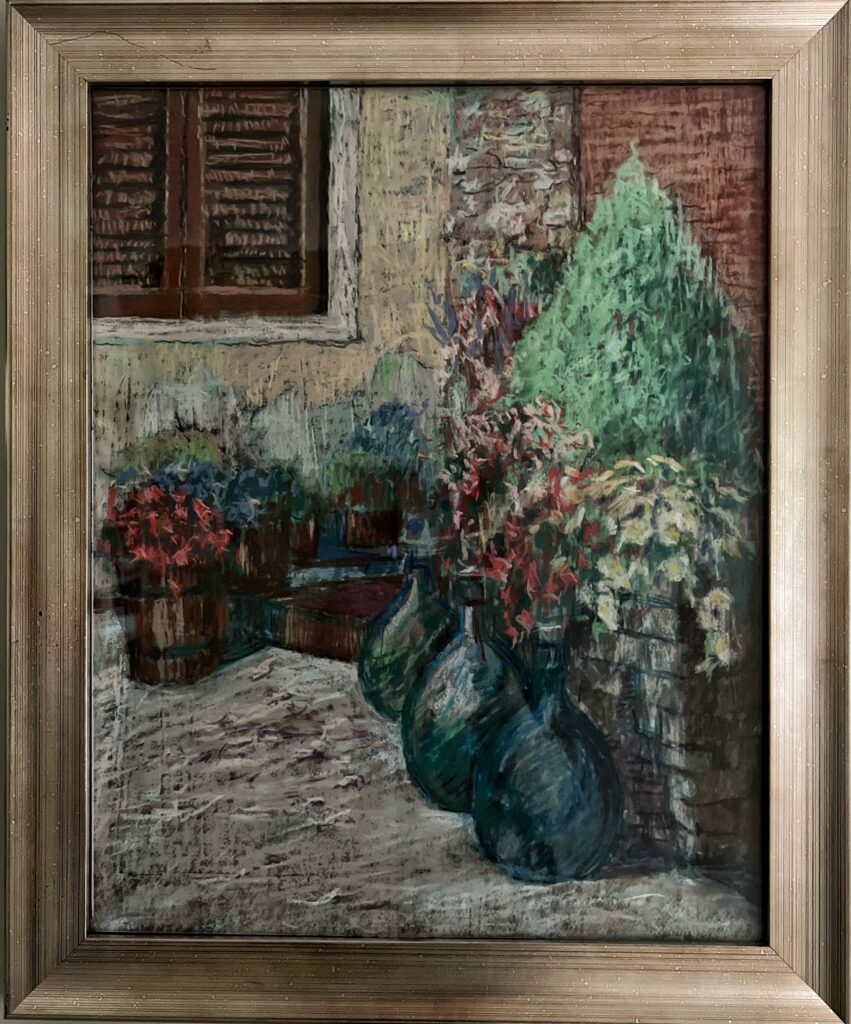 The Interlopers
Most of the group, plein-air painters, knew each other well and met weekly to practice their craft, drawing models. They attended one another's art exhibits, socialized, and had traveled together before.
Each morning, after an amazing breakfast prepared by two local cooks who arrived bright and early, the painters, BF, and I, loaded onto a small bus and set out to one of the nearby hill towns where they would set up their easels facing a classic, small-town, Italian view and we would explore, walking the cobblestone streets up and down, chatting with other travelers and shop owners, eventually finding a shop with wine, cheese, and a baguette for a picnic.
We'd periodically happen upon one of our new artist friends and secretly peek at their works in progress. In the evenings, after another delightful home-cooked meal and several carafes of gorgeous red wine, we'd gather in the main "classroom" and they'd show their paintings, followed by a lively group discussion. It was the best fly on the wall experience ever: the talk of element and color, critiques, encouragement, and baffling, extreme humility.
I will never forget the shock of watching out the bus window one afternoon, as one of the artists, frustrated with her painting of the day, ripped it in half and shoved it in a trash can.
Souvenirs
We have four paintings hanging in our home from that trip. Paintings of scenes we walked in, painted by artists with whom we laughed, explored and drank lots of Sangiovese wine.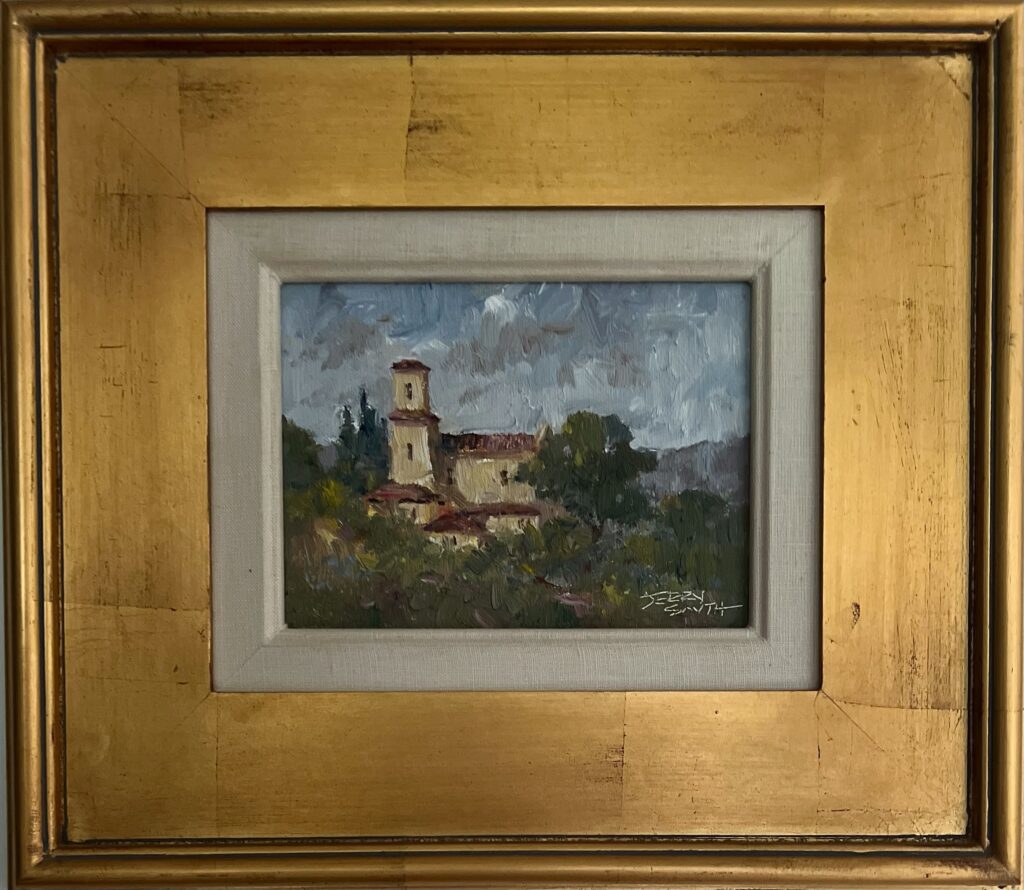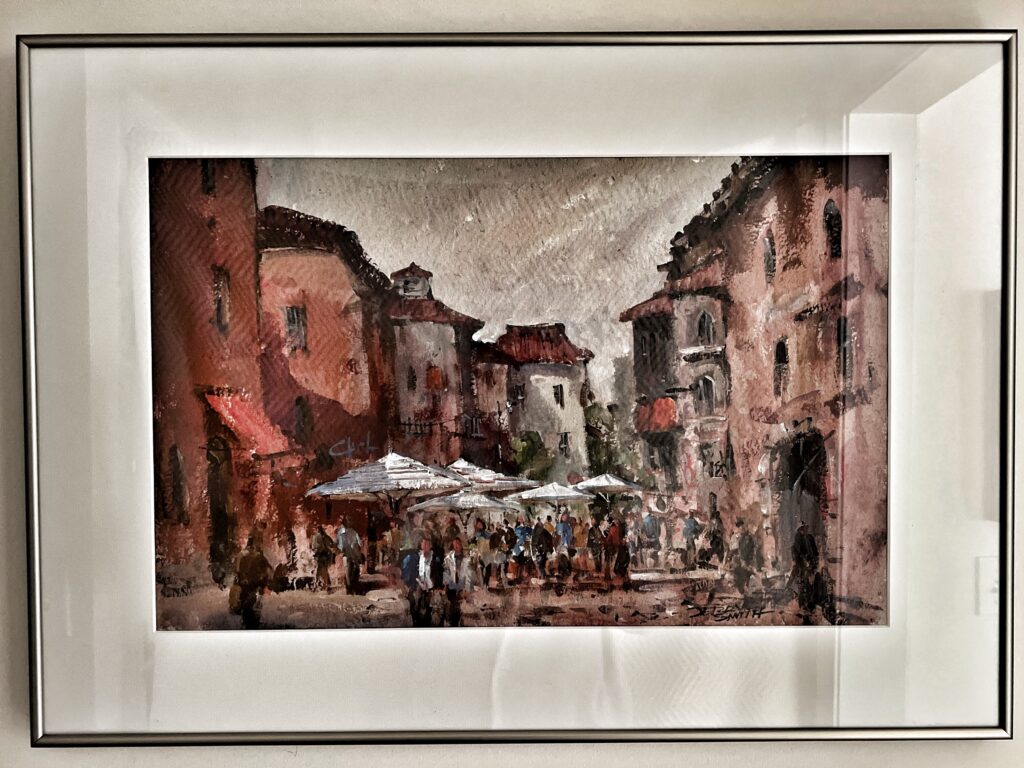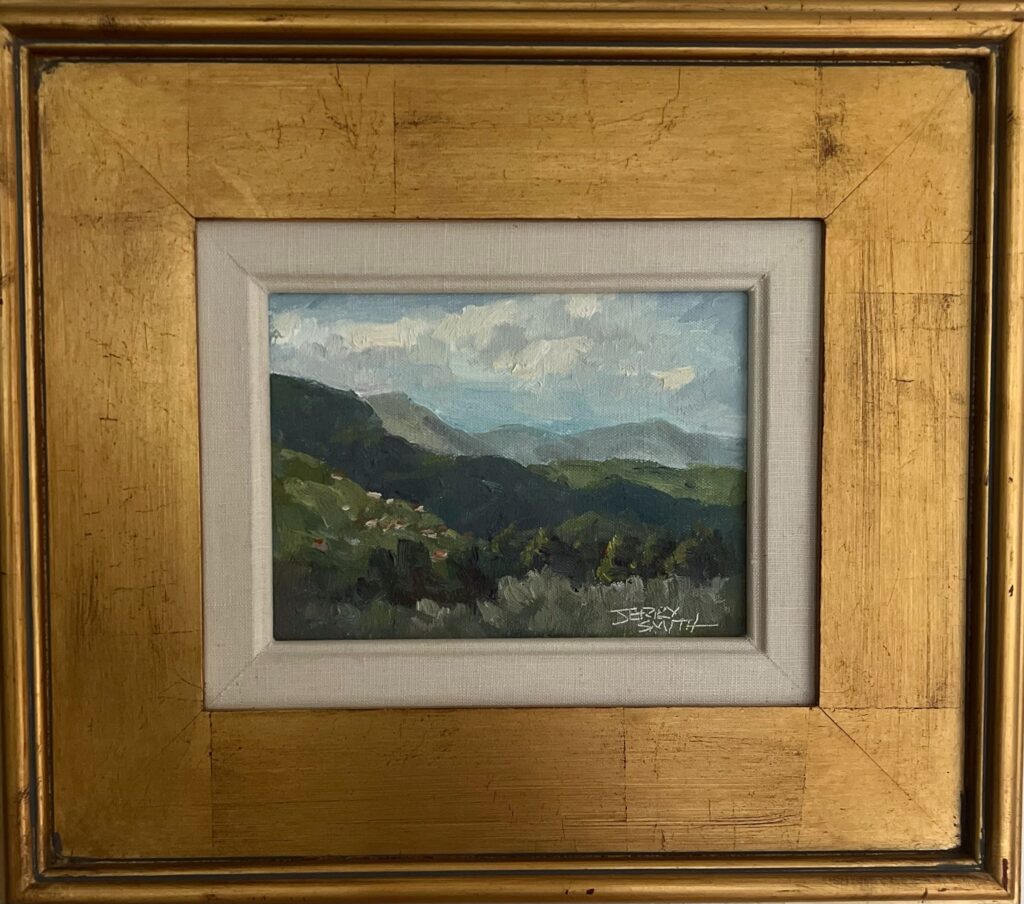 Never have I felt like such a welcomed interloper. And when I take the time to notice, like I did just now, I can step into these paintings. I can feel the sense of adventure and creativity and camaraderie that I did over a decade ago in a monastery turned art school in Terni, Italy and all the hill towns we visited. And I can be so very grateful I asked if I could go.
Top Painting by Chris Newlund.
Three Paintings above by Jerry Smith.