It's comforting when I read an obituary that states that the deceased "died surrounded by her loving family." Sadly, that was not the case for my first mother-in-law, Pauline Dixon, who died Saturday October 15, 2022, in her room, probably alone, in the advanced care unit of her assisted living facility. She was 99 years old, and "next of kin" as I was called at the cemetery yesterday, consists of a son-in-law, a daughter-in-law, (me) and two grandkids (my Jessica and Michael).
Assisted Living
In October of 2019, we moved Pauline into a charming little assisted living apartment fixed up "just so" with a photo of her farm, family photos, and a hutch from her kitchen displaying her favorite apple dishes. We organized her closets with a small selection of her scads of matching outfits and Sunday hats. She was happy to be there with friends and in safety as she'd suffered a few falls.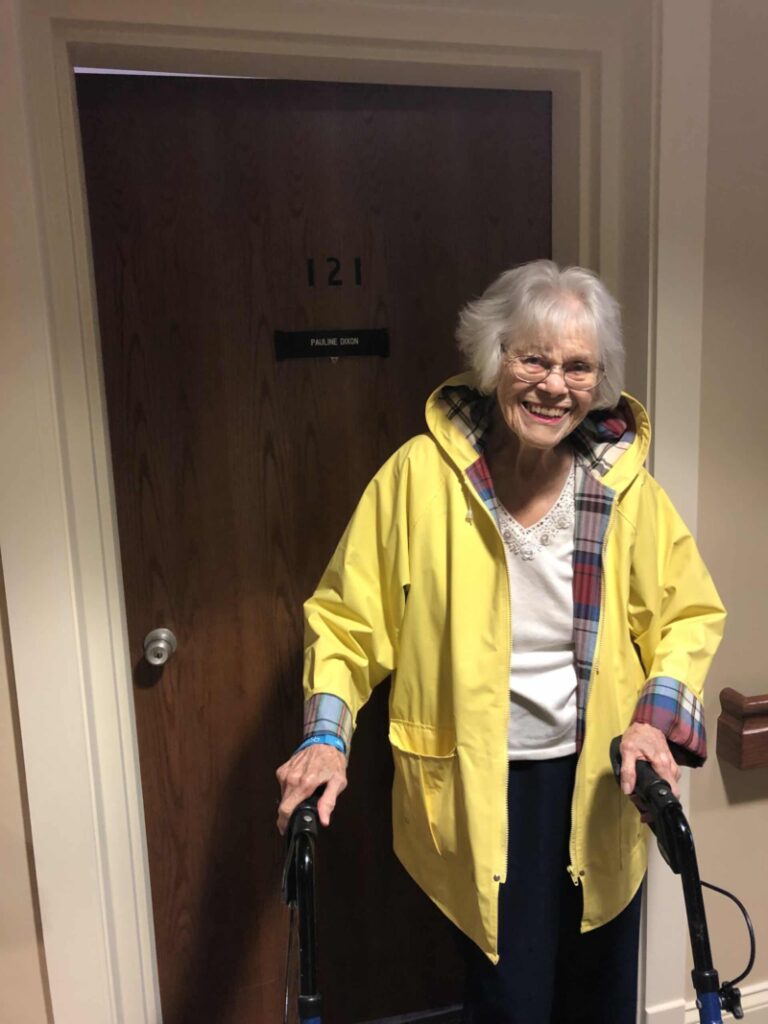 For a short while, she enjoyed walking with friends to meals, church service, or an occasional piano recital or movie. I accompanied her to an exercise class once and shared a few meals in her nicely decorated, restaurant-like dining room where we ordered from menus. She called Jessica and Michael for long chats. As always, she carefully coordinated jewelry with outfits and visited the on-site beauty parlor weekly, where she kept her hair fixed and nails polished.
Can You Take Me to the Hospital?
And then one day, she called, "I fell and I think I may have broken something." She asked if I would please take her to Johnson Memorial Hospital.
Collarbone. After an overnight stay at the hospital, she returned to assisted living, but a floor up where she could have more intensive care. She never returned to the cute, little apartment. Her care just continually upgraded as her quality of life continually downgraded.
Eventually, our scattered visits consisted of me repeatedly reminding her who I was and sidetracking her worry loop by showing her pictures of her grandkids and great grandkids on my phone. Jessica and I took one of Jessica's baby dolls to her and the next time I saw it, there was dried oatmeal all around its mouth. And eventually, we couldn't find the baby anymore.
Welcome Memories
As we prepare for her funeral and Jessica and Michael write her eulogy, I welcome the memories of hot dog roasts on her farm. Her amazing apple pies, made with Lodi apples from the Whiteland Apple Orchard. Marathon shopping trips where she and my sister-in-law would hit three malls in one day. I went with them once and readily admitted I couldn't keep up and I never did it again. Nor could I have kept up with her non-stop schedule of club meetings and choir practice and church and luncheons and crafting and baking, etc.
Pauline traveled extensively and visited a pen pal in England, returning home introducing us all to the art of the proper tea. She brought us nativity scenes from Israel and Christmas ornaments from Hawaii and Scottish plaid things.
She taught Jessica and Michael to like prunes and the astronaut drink, Tang. She allowed them to sit on her kitchen counter where they could see the birds on her feeders. Hers was not the kind of household, pre-grandchildren, that would have encouraged sitting on counters. She owned a formality of relationship, congruent with her generation. Certain topics were not discussed and I never once saw her lose her temper or control of her emotions–even when we buried her only son together. And all of this was juxtaposed with a fun, childlike spirit she never lost.
My kids will miss their grandmother and I will too, but as we've discussed over the past few days, we've missed her for a while now.
How Can We Do Better?
When we lose a parental figure, our own mortality is exposed. For me, Pauline's death closes the door on the generation that preceded me. And with each of the deaths, I've contemplated our system for the aged and wondered how we could do better.
Her senior living place was a nice one. For around here, probably as good as it gets. She had caring people surrounding her who, as I observed, did their best to make her comfortable. But I was haunted by my visits. Haunted by her requests to go home. By what it must be like to register surprise over the repeated reminder, "I'm your daughter-in-law," or "This is your grandchild." By her pulling at her clothes and exposing a diaper.
As I waited for an elevator one day, I skimmed the poster, titled Resident Rights. "You have the right to a dignified existence." I took a photo, knowing I'd revisit that sentence.
So, just how do we define "dignified" for our elders?
I don't have any answers. Only a question. But I think it's worth a conversation. How can we do better?