From my journal, Wednesday, November 24, 2021:

Today is my 65th Birthday.
I awakened in a fog. First time in months I've slept until the alarm chimed. I feel like I have a hangover—didn't even drink last night. An important milestone should feel special, but today doesn't. I have so much to do today! I have to . . . I can't forget to . . . And there's…
I was feeling put upon.
The Rolodex that lives in the back of my head commenced flipping. I admit, this is not a place from which I behave well.
BF and I had agreed that we'd celebrate my birthday the day after, which was Thanksgiving, and we'd have the entire day together. But then on my 65th birthday, I wanted someone to celebrate me on my day!
I was on the verge of turning my disappointment toward BF. I was dangerously close to falling off the martyr cliff. After all, I had plenty of evidence to full-on, poor me.
Choice I
Thankfully, it dawned on me that I had a choice. All those have to's could wait. It was my birthday, and I could do whatever I wanted.
What seemed a birthday-worthy activity, was to crawl back into bed with another cup of coffee and write in my journal until I figured out what I most wanted to do with the rest of my day.
So, I did.
I wrote, "What would my dream birthday be?"
As I wrote, I calmed. Stepped back from the edge of that cliff. Eased into positive energy; broke the spell.
The person who needed to celebrate me–was me. As if on cue, as my energy shifted, so did the events of the day.
One of the kids called.
Our family text message thread blew up with well wishes.
I read one of my favorite blogs and wrote a response.
Two friends called.
Eric Howe, my birthday-twin-teacher-friend, texted me.
Choice II
By lunchtime, I was all dressed up (that means real clothes, rather than yoga pants and a sweatshirt) and had walked to Vino Villa. It was crowded.
Choice III
I spoke my truth to the nice, young lady who seemed to be in charge. "It's my birthday, and what I really want is to sit on the third floor and have lunch—alone."
She said it was closed.
But did I mention she was nice?
I spent the rest of the afternoon on the third floor of Vino Villa–all by myself–sipping Pinot Noir and writing in my journal. I treated myself to a Goat in the Garden pizza and took home a whole pecan pie and a big salad for our dinner.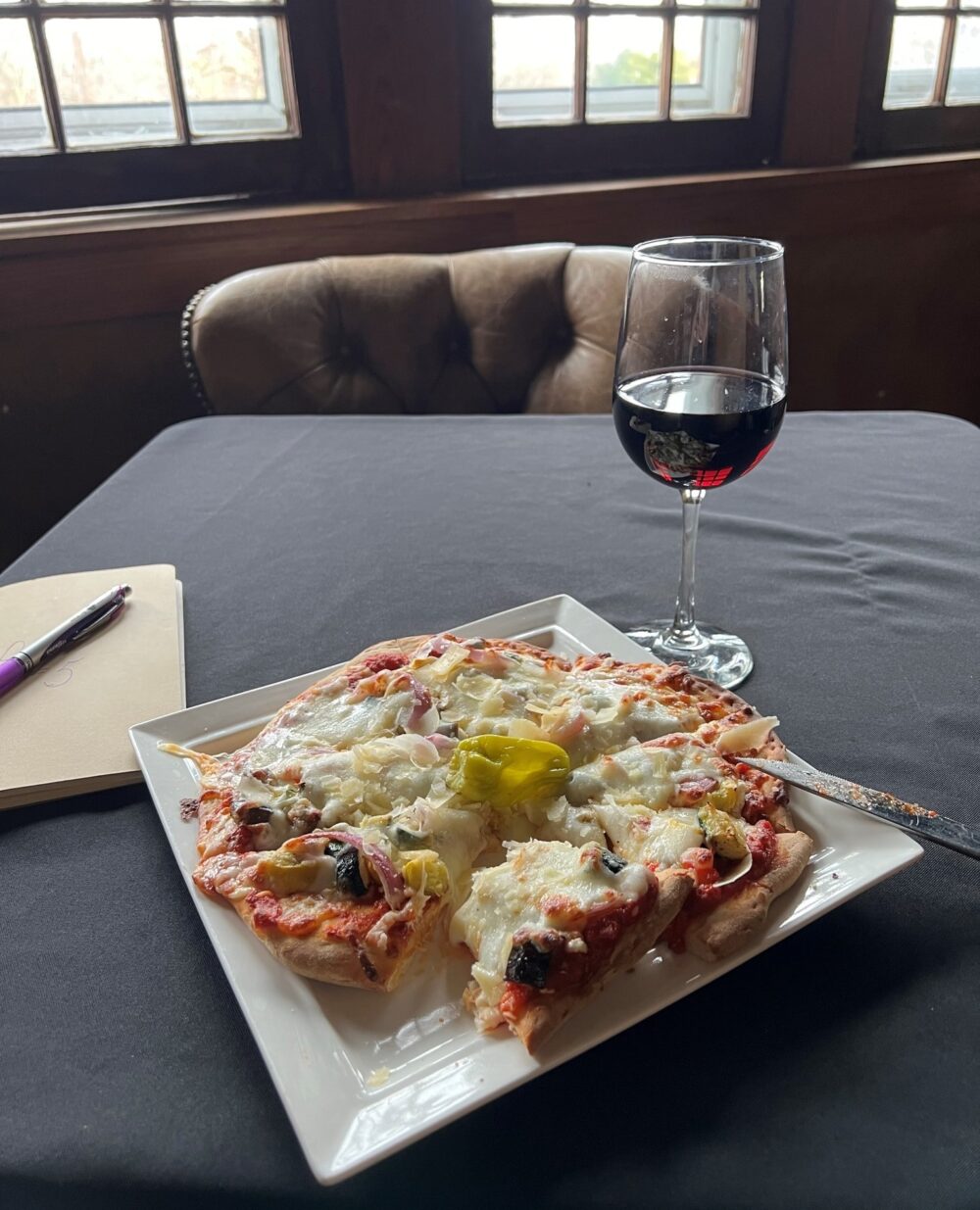 BF brought me flowers from Brick and Mortar, a sweet gift shop in our Old Town neighborhood. We had a lovely candle-lit dinner of leftover pizza and salad. We whipped real cream to go on the pecan pie. We played Sequence and I won.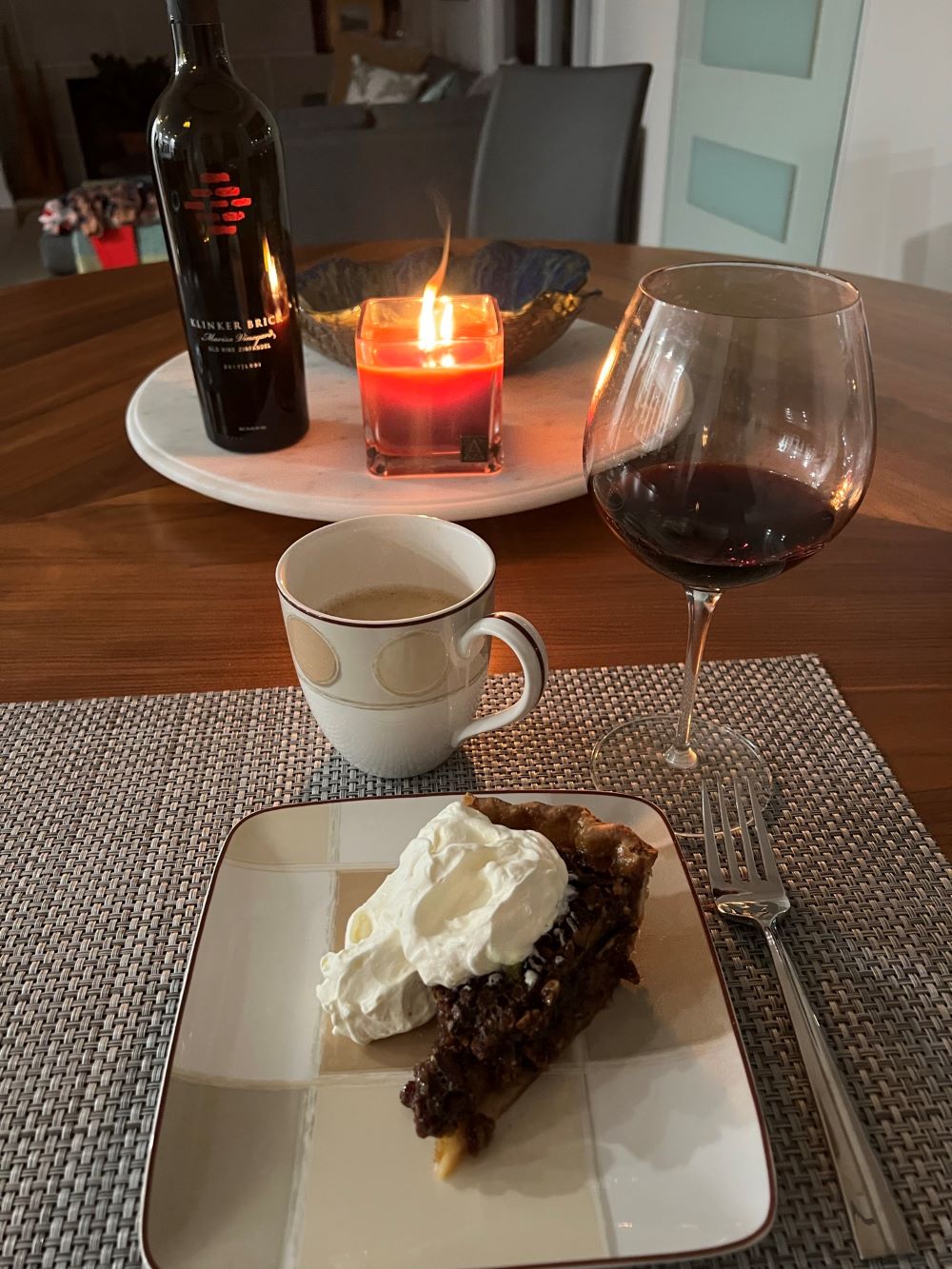 Somehow, I managed to make choices on my 65th birthday, which turned out pretty, danged, well. Empowering.
Here's to hoping, with the wisdom of age, I will learn to calm down and shift my energy before I'm hanging by a twig over a dangerous precipice.