Who
Really
Qualifies as a Snowbird?
As I mentioned last week, I'm newly 65 years old. I used to think that was old, but old is a weird term. When one steps into the generally accepted parameters of the word, those parameters morph. Its boundaries are fluid.
With every stage in life, there are tremendous benefits, and flying south for the winter has been a goal of mine since I was about twelve. A week or two at the beach has never felt long enough.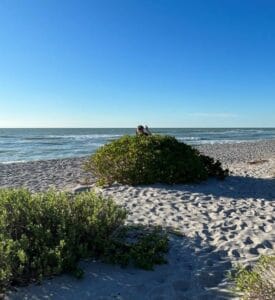 In fact, I've been practicing being a snowbird for a while now. Over the last few years, I've spent a few Novembers on St. Pete Beach. Last year, we followed kids and a grand to Venice, FL, extending our stay to two months. This year, we're back in Venice for three.
I'm not even sure we can technically claim the snowbird title just yet. I think The Season is at least four months long. Plus, we still have a workday/weekend schedule of sorts. We'll get there eventually.
And there's the whole thing about not fitting into the traditional snowbird mold. But then, I don't see that many people down here who do. Once again, I'm reminded that attempting to pigeonhole people based upon general assumptions will bite us. And we risk losing out on fascinating nuances of individuals.
The Law of Attraction
Furthermore, I believe wherever we are, in whatever stage we happen to be in, we will find what we're looking for. We attract what we put out there.
Sure, we went to dinner at 4:00 the other night, but we went with Linda and Karl from Boston. Fun, new, interesting friends we met here at Bird Bay Village. We laughed and shared stories. Enjoyed gin and tonics and fresh grouper together.
Villages
Have you noticed how many mature living complexes use the word Village in their names? Don't be fooled. The most constant sound in our little village is the professional whack of pickleballs, the water aerobics class broadcast at 10:15 A.M., and the cheers coming from the bocce ball court. The outdoor yoga is excellent!
My observation is that snowbirds are happy. It's a settled kind of happiness that comes from knowing what matters and a deep appreciation for each new, healthy day. And they are active. And curious. And fun. Energetic. Friendly and welcoming. This whole snowbird thing, which I'm coming to believe may have a bad rap as an old person's gig, may, in fact, be a secret to staying young.
Packing up half of one's belongings and relocating 1000 miles south for several months is not for everyone. I get it. But for now, as I figure out this not-really-on-vacation-sort-of-living-here thing, I'll volunteer to be your reporter from the field.
Fun sidenote:
If you think snowbirding cuts ties from home, not true. As we were seated at our waterfront table at Casey Key Fish House at 4:00 P.M. with our new Florida friends, I glanced at the table next to ours and what do you know? There sat Tracy Buck, my teacher friend from Center Grove High School.